This is our year-end newsletter wrapping up the news and takeaways of our activities for the last quarter of 2020. 
Dear members,
I hope you have kept well and safe. It's been a tough year for everyone, but the club kept up our activities mainly by engaging you through digital channels.
But we've heard your feedback that while online knowledge events and training are great for now, some face-to-face but socially-distanced events would be welcome too. So in addition to a Cornerstone exclusive Liquor sale on 3rd December and a series of Dining offers (https://pressclub.org.sg/special-privileges-for-members/) – another batch of deals will come soon in December, so watch out for it – we had to think up some novel events.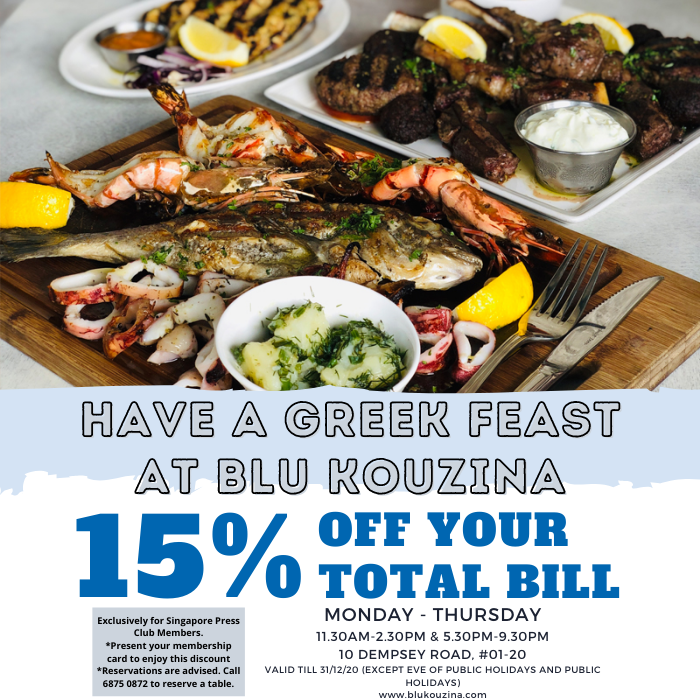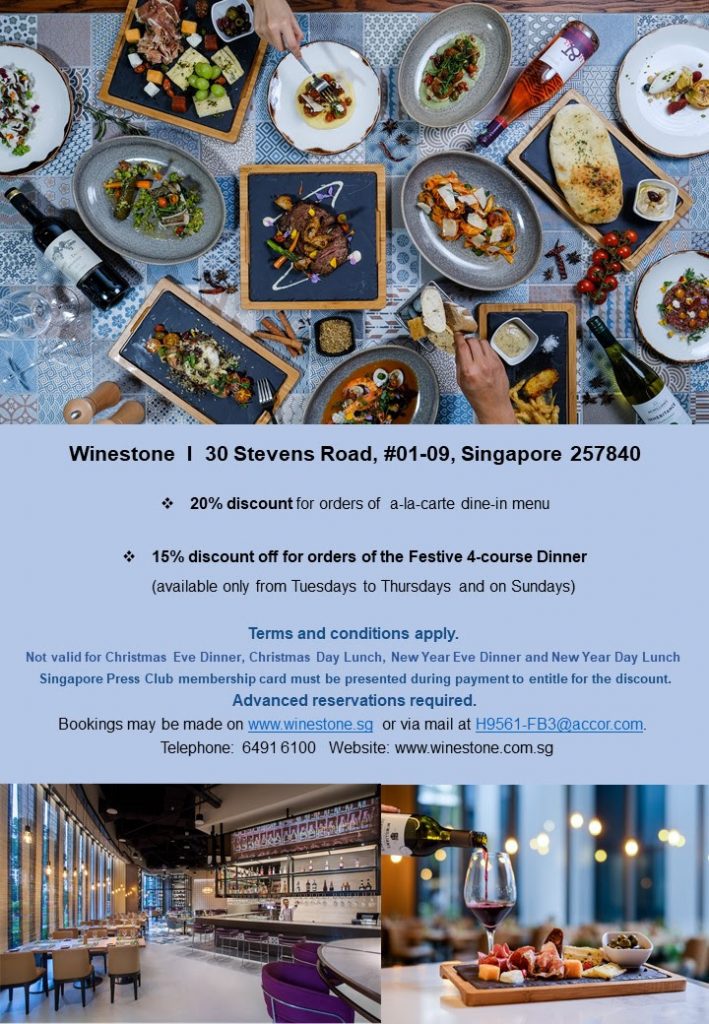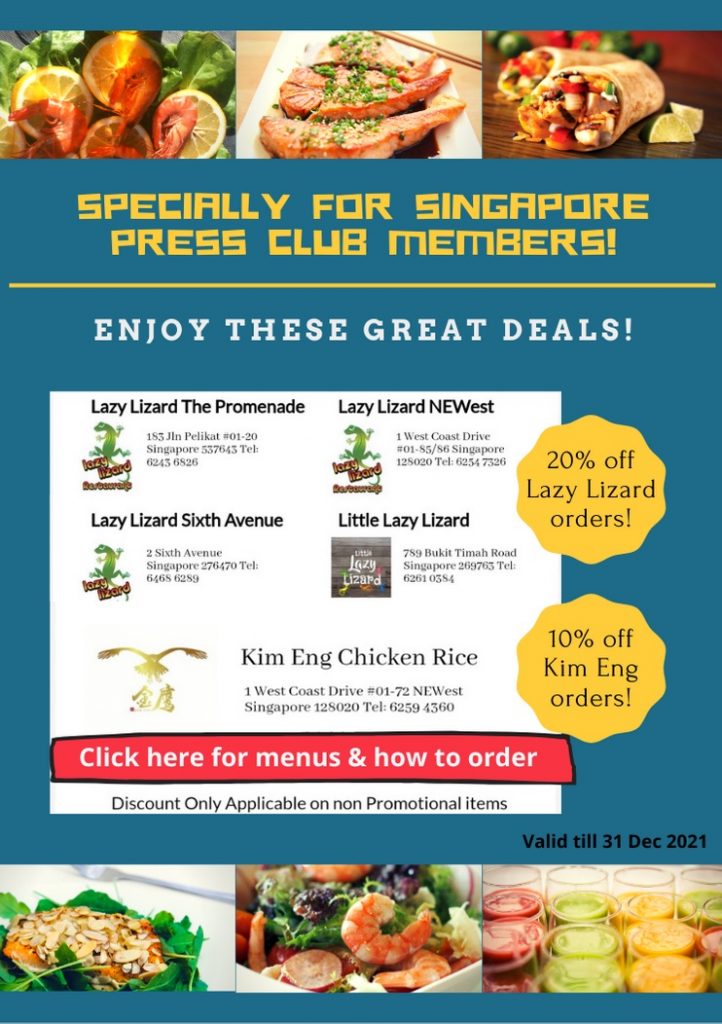 Social events with a twist?
Our first Gourmet Special – Dinner at Home was held on Friday 23rd October. A unique Peranakan Taster Dinner created by Chef Lionel Chee came with an online demo on how to cook a Peranakan dish. We received more than 30 orders from members who enjoyed the meals delivered to their homes for family and friends, along with Peranakan-inspired cocktail drinks.
If you missed this, don't fret. Sign up now for Chef Lionel's Eurasian Christmas Feast on Friday, 18th December.
Savour his specially-curated menu of Eurasian favourites. Invite a few friends over to share the joys of the season or surprise loved ones by sending them a surprise festive meal. Chef Lionel will again give an online talk, personally introduce his dishes and also take your questions. We have a good number of orders so please don't wait, we're extending our registration deadline to 10am on Wednesday 16 December 2020. Register your order and pay via this link;
https://pressclub.org.sg/product/eurasian-christmas-feast-on-18-dec-2020/
We also launched our first Networking Lunch Special – Tables of 5 held at 3 separate restaurants at Novotel on Stevens. Due to good response, we had to hold it over 2 days – 8th & 9th December – with members and guest lunching at Winestone, The Gyu Bar and In Piazza. 
Joon Nie who hosted a table of 5 at The Gyu Bar said, "Thanks to the club for organising this event to get us out of our homes and networking again! Not easy to coordinate with so many restaurants! Planning to use the Winestone discount too one of these days, and I'm gonna bring my family to In Piazza soon so yes looking forward to those member discounts!"
Elsie, who lunched at In Piazza, commented "Had a great time … Company was great and the food was excellent!"
Battle of wits and bouts of laughter at inaugural Media vs PR trivia night
Which Asian city is the world's coldest national capital?
What was late American director Stanley Kubrick's final film? 
And what do Free Willy, Lisa Kudrow and Nelson Mandela have in common?
These were just some of 60 questions posed at the  inaugural Media Versus PR Trivia Quiz Night on Nov xx. Organised by the Press Club (SPC), the virtual quiz saw more than 30 trivia buffs convene on Google Meet for a friendly face-off of brainy proportions and some spectators in for the fun too. The 7 participating teams came mostly from the media and public relations industry. SPC also invited friends from Telum Media, the Foreign Correspondents Association, the Asian American Journalists Association and the Institute of Public Relations.
A special discount was also offered by our partner Lazy Lizard so participants could order their meals and have it delivered.
Quiz master and Thomson Reuters managing editor Ranajit Dam kept participants engaged for two hours with challenging questions from geography and history to science and pop culture – and no Googling was allowed.
The team from Bloomberg, aptly named Play To Win, edged out the competition to win $200 worth of Dempsey Hill dining and shopping vouchers, courtesy of Country City Investment. AfterHours, the youngest team comprising students from NUS and SUSS snagged the second prize: $150 worth of Lazy Lizard dining vouchers. Coming in third was A Team Has No Name, a motley crew of single-players led by journalist Nicholas Yong. Each of the top three teams also received two bottles of wine sponsored by SPC.
"The questions were really well thought out," said Yong, assistant news editor at Yahoo and self-professed trivia regular. "I have been to other pub quizzes where the questions are either too difficult or clearly just plucked out at random. My compliments to Ranajit. So much effort and thought put into it."
Quiz host and SPC management committee member Yeo Sam Jo said this is likely the first of many trivia tournaments to come. "It may have been our first quiz night, but the great turnout tells us that people, journalists or not, love a little friendly competition. Even if you don't win, it's all in good fun and you get to bond with others while learning a thing or two," Sam Jo said.
Speaking of learning, if you've read this far and you might want to know the answers to the questions cited earlier: Ulaanbaatar is the coldest national capital, Stanley Kubrick's last film was Eyes Wide Shut, and Willy, Lisa and Nelson are all characters from The Simpsons.
If you missed the Trivia Night, look out for the next one in February 2021. The teams who have participated, especially the Telum Media team, will be back for sure and we hear more will sign up. 
We had lots of food and fun but we also tackled serious issues like climate change, your health and wealth. Here's a quick summary and the takeaways in case you missed them.
SPC accepted an invitation to participate a unique initiative on 23rd October called the World Press Clubs Alliance for Climate – the longest ever online conference (24 hours in 24 time zones) focusing on positive climate action. We presented a 15-minute video on what Singapore is doing to tackle the challenges posed by climate change, and the role the media can play. This video was commissioned through the Press Club's recently launched Freelancer Network, in partnership with the National Youth Achievement Award Council.
You can also view it on the SPC's YouTube channel https://youtu.be/HRaIwl5QmxE. The video was produced by Manimaran Govindasamy, a member of our Freelancer Network.
Copyrighted SPH pictures in video and here, used with permission thanks to The Straits Times.
Webinar on the 11.11 was not a sales event, but a webinar on Job Opportunities for the Media and Digital Marketing Sector held on 11th November, organised by NTUC's U-Associates in  collaboration with SPC and Marketing Research Society of Singapore. Club Vice-President Lau Joon-Nie, who now heads the APAC office of the European-headquartered World Association of News Publishers, spoke at the webinar.
This was the second in a new monthly series on job opportunities amid the Covid-19 pandemic by U-Associates, a network of professional associations set up by the Labour Movement in 2011 for working professionals.
Opening the webinar, U-Associates Director, Melvin Yong, who is also NTUC's Assistant Secretary-General, said that amid the gloom, some industries, like new media and digital marketing, continue to be resilient. NTUC sees potential in the sector.
"Network, network, network," said Singapore Press Club Vice-President, Lau Joon-Nie, in response to an audience question on how local companies could compete on a global scale.
"Attend trade shows, join industry groups and associations – online or in person. Go overseas, seek opportunities," said the veteran Press Club member, who joined in 1995 when she was then a young broadcast journalist. "Find your tribe." 
The hour-long webinar was moderated by Club member Selena Oh, Director of Write Sel Communications, a PR and marketing communications agency specialising in tourism, hospitality and lifestyle events.
To find out more about the issues discussed in the webinar, go to https://www.youtube.com/watch?v=Rlb-A3rcr68
SPC Health Webinar: The inevitability of pandemics: Is the Asia Pacific prepared? 
This webinar on 12th November, hosted by SPC was supported by Roche Diagnostics. Renowned academics, clinicians and health economic experts from around the region participated in a 90-minute discussion about the way forward, and what it will take for Asia Pacific to be prepared for when, not if, the next pandemic strikes. We got over 50 sign ups, including journalists from 27 media titles in the region. 
Zakir Hussain, the Club's Vice President and the Singapore Editor of The Straits Times welcomed the attendees with a simple message that the pandemic has highlighted the need for collaboration and partnership, including among media organisations.
A big thanks to SPC member Shefali Rekhi, Asian Insider Editor at ST and Editor of the Asia News Network, for doing a great job moderating the 3 sessions with the 10 panelists, including a doctor who recovered from Covid19.
Click to watch recordings of the event
SPC Health Webinar: Vaccine confidence in the time of Covid-19: Asia's time to act?
This webinar was presented by the EU-ASEAN Business Council  on 1st December. Renowned speakers in policy and clinical practice discussed with our member Salma Khalik, ST's senior health correspondent, the barriers to enhanced vaccine confidence in Asia.
Salma has this takeaway to share from the discussion "One thing that all panelists agreed on is that in the event of something going wrong, the faster the authorities can provide the media with accurate and updated information, the easier it is to curb the spread of fears and misinformation. Delays in acknowledging a problem, such as the death of someone following vaccination, can do much damage – especially if the death is not even related to the vaccine. The delay itself will give rise to speculation, which can rapidly spin out of control, given the speed of social media. If the death is related to the vaccine, all the more reason for the authorities to be open with information and its plans going forward."
You can view this webinar recording from this link.
https://www.youtube.com/watch?v=mkP6k13ViAA
The club's investment committee has appointed EndowUs, a boutique wealth manager, to invest our modest reserves to earn better returns. EndowUs held an online talk and Q&A on 23 November for our members. If you missed the talk, you can view the recording of the session from this link.
https://youtu.be/1e2c9CBDrWU
We're also happy to share that Endowus has offered SPC members a special 50% off your Access Fee until Q2 2021 if you sign up to use their services. You can use this link 
https://endowus.com/r?code=SPC_9BXCSMGL1R.
and the presentation PDF 
https://pressclub.org.sg/wp-content/uploads/2020/12/SPC-x-Endowus.pdf
You can also contact them for a consultation.
Finally, we've had a vibrant online ARTS calendar too – films, music and an art exhibition. 30 members registered and received sponsored tickets to watch Idomeneo Refracted, a live online opera performance.