Description
A Eurasian Christmas Feast
by Chef Lionel Chee of Casa Bom Vento Express
Savour this specially-curated menu of Eurasian favourites. Invite a few friends over to share the joys of the season or surprise loved ones by sending them a surprise festive meal! On Friday 18 December 6:30-7:15pm, Chef Lionel will personally introduce you to the dishes he has created for the evening in an online talk, where he will also take your questions. Discover the secrets of this heritage cuisine which is rarely found outside Eurasian homes!
About Chef Lionel Chee
A graduate of Les Roches Hotel School in Switzerland, Lionel Chee spent over 10 years in the hotel industry and 20 years running a heritage restaurant in Singapore before he became Singapore's first licensed food tour guide and the republic's World Food Travel Association ambassador. Find him at his newest venture, Casa Bom Vento Express at Xin Tekka's Tekka Place Annex Building at 2 Serangoon Road, Singapore 218227, and enjoy 10% off when you show your Singapore Press Club membership e-card on your next visit! Discount only applicable to the usual Casa Bom Vento Express menu at Xin Tekka and not to special events like the Eurasian Christmas Feast.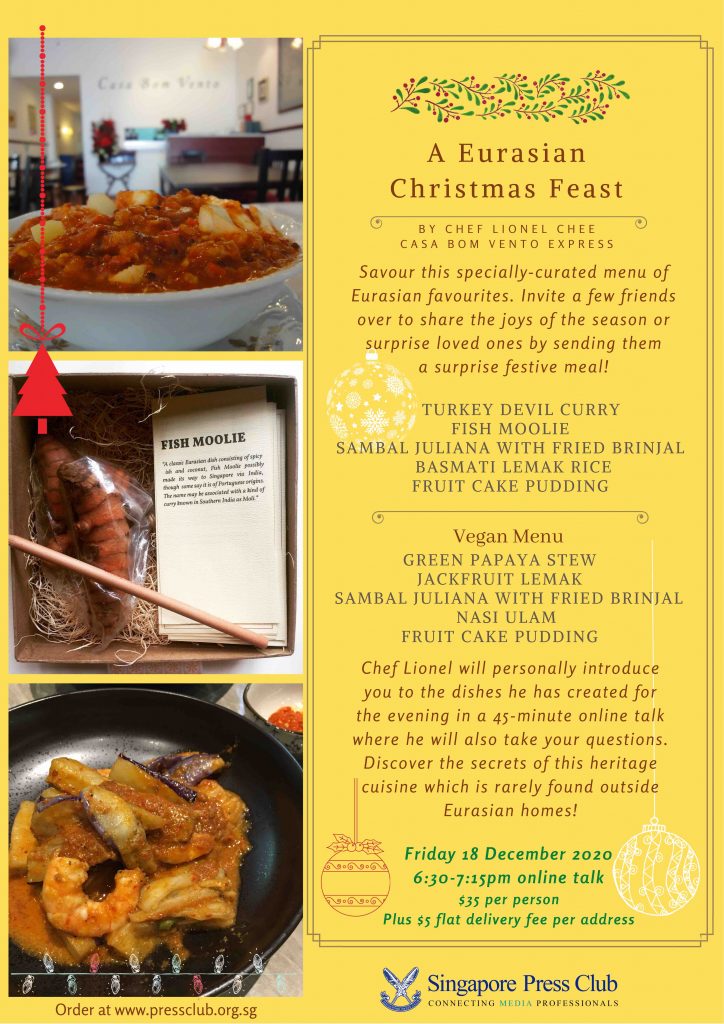 Terms & Conditions
As this is a curated event menu, Chef Lionel is unable to take any special requests beyond the above menu options.
Orders close on Monday, December 14, to give Chef Lionel time to purchase ingredients and prepare this special off-the-main-menu group meal.
Should you wish to reduce or cancel your order, we suggest requesting to send it to someone else as a treat as refunds (less credit card charges) would not be possible after 14 December. Change of delivery address will be accepted up to 17 December.