Join our tables of 5 at Novotel@Stevens restaurants
Wednesday 9 Dec 2020, 12:30pm – 2:30pm
Confirm your seat by Friday 4 December 2020
Only $55 Nett per set menu
inclusive of a drink (soft drink, coffee/tea or a glass of wine)
(Usual Price up to $73 inclusive service charge and GST)
Limited to only 15 seats across 3 restaurants!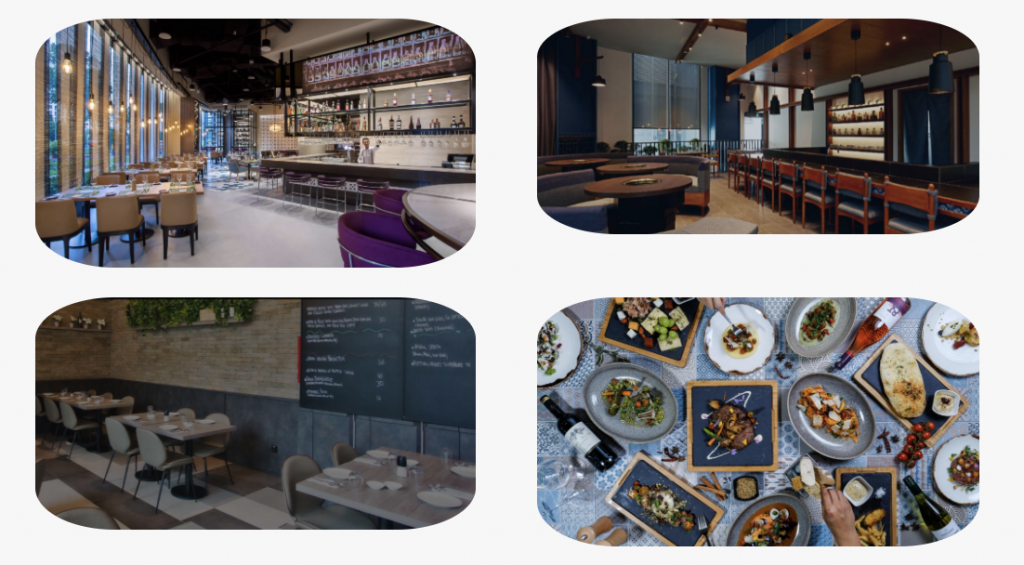 Join our SPC networking lunch. Yes, it's been a long time. Due to Covid-19 social distancing guidelines, we're operating only in tables of 5.
Each of the 3 featured restaurants – Winestone, In Piazza, The Gyu Bar, all at Novotel@stevens, are offering specially curated set menus for our members.
So invite your Press Club friends or colleagues for a lovely lunchtime get-together to catch up on that face-to-face networking you've been missing out this year! You can also sign up solo and we'll seat you up with other participating Press Club members.
Reservations will be on a first-to-book-and-pay basis. Bookings not paid up by 4 Dec 2020 will be released to the next person on the waiting list.
Price: $55 nett per seat/special set menu
*Price includes a drink, a glass of wine or coffee/tea. Vegan options available
Winestone is a Modern European restaurant, late-night bar and wine retail store, serving affordable wines and authentic European cuisine. Dishes served take on their inspiration from the coast of the Mediterranean Sea, the delicious tastes of France, the hearty-homely meals of Italy and the gastronomic wonders of Spain.
2-Course Set Menu (pick either a Starter and Main OR Main and Dessert):
(inclusive of a choice of Soft drinks/Juices/Coffee & Tea/a glass of Wine)
Starter (Salad/Soup) choices
– Chicken Caesar served with poached eggs on top of leafy romaine lettuce, sprinkled with parmesan cheese and anchovies with anchovy dressing
– House Mixed Salad with Age Olive Oil and balsamic glaze
– Cremini Mushroom(V) – diced porcini mushroom with a dash of truffle oil mixed to a rich creamy texture
– Pumpkin(V) – freshly-peeled pumpkin pureed and topped with almonds and chives
Main Course choices
– Burrito Style Tortillas Wrap – Mayo, Basil Puree, Butter Lettuce, Burn Onion, Capsicum served with French fries with Crispy Fish or Vegetable Fritter (Vegan)
– Rigatoni Prawn – fresh prawns tossed with rigatoni, roasted capsicums and mixed with rich-tempered tomato parmesan sauce
– Ragout Tagliatelle – classic homemade ground beef ragout mixed with tagliatelle and topped with grated parmesan cheese
– Winestone Pizza(V) – oven-baked pizza topped with diced pumpkins, fresh tomatoes, rocket leaves and grated gorgonzola and mozzarella
– Pellegrino Pizza – oven-baked pizza topped with shaved prosciutto de parma ham, grilled mushrooms, fresh tomatoes, black olives
– Winestone Signature Burger – slow-grilled wagyu beef patty layered with sautéed portobello mushroom, camembert cheese and freshly buttered leafy lettuce, drizzled with onion marmalade and mustard on brioche bun, served with fries and salad
– Pan Seared Salmon Rigatoni – Pan Seared Salmon with Asian-inspired rigatoni, topped with fragrant teriyaki sauce dressing, artichoke and sprinkles of mozzarella
Dessert choices
– Baked Apple Crumble with Almond and Mixed Berries – baked apple in crispy crumble crust with almond and mixed berries
– Lemon Cheesecake – creamy lemon cheesecake speckled with lemon zest and topped with luscious lemon curd, served with strawberries
– Berry Tart – sweet and buttery crust with a luscious cream filling, topped with colourful fresh slices of fruits Chocolate Ganache
– Mud Pie – soft chocolate ganach mud pie with rich and creamy chocolate sauce
Address: 30 Stevens Road, #01-09, Singapore 257840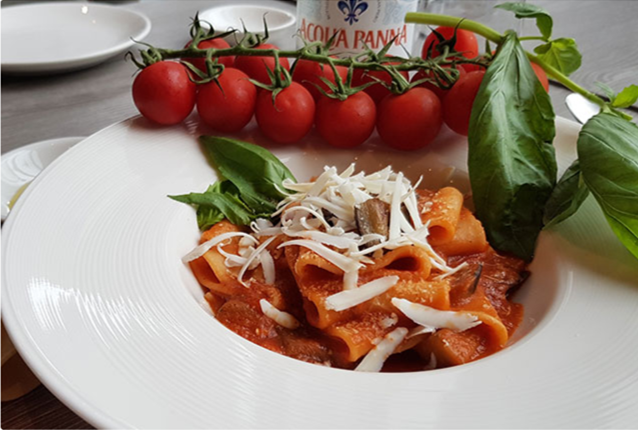 In Piazza Restaurant serves a menu of authentic Italian dishes with a touch of Italy in Singapore. 2 experienced Italian chefs ensure that you can fully experience the joy of Italian cuisine.
The restaurant is helmed by Chef Dario Bonaccorso, born and raised in Italy, has about 10 years of experience and has always had a passion for making pizzas. Seven years ago, he left Italy is now a proud co-owner of the two pizza outlets in Singapore.
Born into a family of talented cooks, Chef Alessio Di Felice found his passion for cooking at the young age of 3 – his playground was his grandfather's restaurant. He believes that the essence of Italian cooking is simplicity, using the freshest seasonal ingredients and basic cooking techniques to simply enhance the natural flavor of food.
Special Tasting Menu
Small bites of 3 Starters: half Burratina with pharma ham (contains pork), Bruschetta and fried calamari
2 half-portions of In Piazza signature Pasta (homemade):
. Raviolone dello Chef (contains pork)
. Cavatelli in ragu' bianco (contains pork and beef)
. 1 pizza customer choice flavor
Dessert:
mini portion of Homemade tiramisu or choice of a glass of wine
Drinks:
choice of coke, sprite, orange juice, apple juice, ice lemon tea.
Address: 28 Stevens Road, #01-04/05, The Pines, Singapore 257878
The Gyu Bar restaurant is a contemporary Yakiniku dining and bar concept that specializes in premium Wa-Oh Japanese beef from Kumamoto.
The Gyu Bar also diversifies its menu with other quality sourced meats and seafood, organic rice and condiments from specialists farmers and award winning suppliers.
In the spirit of 'Omotenashi', The Gyu Bar offers guests a first glass of sake on the house. Each guest is invited to choose their own sake glass from the sake glass feature wall, which showcases the owners' personal collection of over 150 glasses collected from their travels over time.
Address: 30 Stevens Road, #01-08, Singapore 257840 (near the entrance of Mercure Hotel)
Special Menu options
(includes salad, soup and soft drink) UP $62++

A. Wagyu Uni Chirashi
OR
B. Foie Gras Yakiniku Don (option to change to pork)
OR
C. Truffle Sukiyaki Sirloin Don

Click here to place your orders by Friday 4 Dec. Limited to 15 seats only.

Please book Friday, December 4, 2020
(Reservations on a first-to-book-and-pay basis)
Make payment by Monday, December 7, 2020, to give us time to firm up bookings with the restaurants. Food and drink choices for the special menu can be made at the restaurant when seated.
After submitting your reservation, you will receive instructions on how to pay for your order via PayNow to Singapore Press Club.

Once payment is made, you will receive our email confirmation.
Should you have any questions, please email Singapore Press Club at secretariat@pressclub.org.sg
or WA our GM Janet Wee at +65 96190208