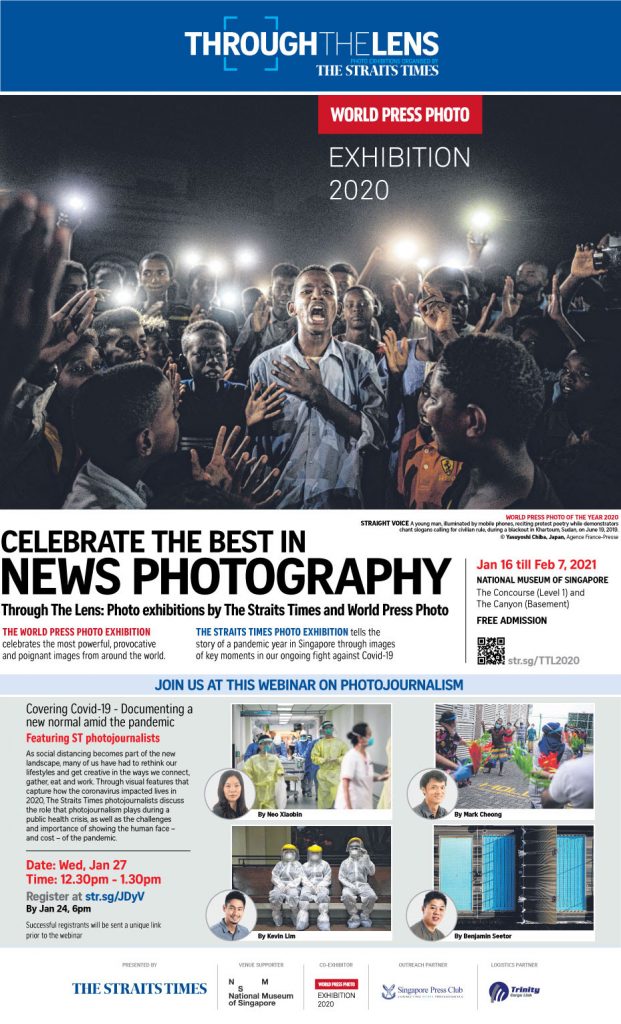 Dear Friends,
Singapore Press Club is pleased to invite you to view Through The Lens photo exhibitions by The Straits Times and World Press Photo held at the National Museum of Singapore (The Concourse level 1 and The Canyon at basement) from Saturday, January 16 to Sunday February 7, 2021. It is open to the public daily, admission is free.
Through The Lens comprises an exhibition by The Straits Times (this year, the ST exhibition will focus on coverage of Covid-19 in Singapore) and an exhibition by the World Press Photo (which celebrates most powerful, provocative and poignant images from around the world).
Join us as well for this Webinar on Photojournalism
Covering Covid-19 – Documenting a new normal amid the pandemic Featuring ST photojournalists As social distancing becomes part of the new landscape, many of us have had to rethink our lifestyles and get creative in the ways we connect, gather, eat and work.
Through visual features that captured how coronavirus impacted lives in 2020, The Straits Times photojournalists discuss the role that photojournalism plays during a public health crisis, as well as the challenges and importance of showing the human face – and cost – of the pandemic.
Date: Wed, Jan 27
Time: 12.30pm – 1.30pm
Register by Jan 24, 6pm
Successful registrants will be sent a unique link prior to the webinar